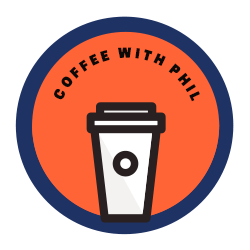 INTERNET MARKETING SERVICES
Search Engine Optimization & Social Media Management
I am not like just any other SEO agency. At Coffee With Phil, I take great pride in getting to know you, your business and your industry. There is no such thing as a one-size-fits-all internet marketing package.  That's why I start with a simple platform to really dig in and be able to help you establish and broaden your digital footprint.
Blog Writing & Management
So you have a blog for your company website. And you thought you (or your sister's husband's cousin) could do some regular writing and updates. Yeah – it ain't happening is it? That's where we come in. Let us do the work and all the heavy lifting – while you have a business to run.
It all seems so easy, doesn't it? I mean, you're on Facebook or Twitter all the time (personally). How hard could it be to do your own Facebook marketing or run your own Instagram page? I know – you've tried it. Now let ME show you how it's really done. (FYI: It's a lot more work than you might think)
Link Building & Attracting
Links are still very much important to your overall SEO. But you have to be very careful to ensure that you are attracting the right links to your website. The name of the game is to have someone in your corner who is actively building and attracting the right links. We offer several different levels of engagement for link building, depending on your budget.
Internet marketing isn't just one thing...
Most people would like to believe that they cant just order some sort of package A, B or C and pay a monthly fee for their SEO. That's simply not the way to do it. Sure – you have a monthly budget and need your online marketing efforts to meet that, but your SEO agency shouldn't be performing the same mundane tasks each month. If it were that simple, wouldn't just about everyone be doing it? For themselves, no less.
You need a team that entertains a real strategy and sets goals to achieve with you. You need your brand to be represented correctly and to make sure that your online reputation is just as important to you as your face to face interactions with your customer. That's exactly what we do. First we start with a full audit and overview of your company and all of your digital assets and properties. Then we dive in to research your competition and what it will take to start getting a leg up on them.
From there, we make sure that everything in your backyard is set up properly and clean. Then we start to establish your footing in your local area. A lot happens behind the scenes of your website. And usually it's the little technical things that can hinder a site from being properly ranked with the search engines. So by hiring us, you can be sure that your website will have an ongoing plan of making sure you're up to speed at all times.
There are a lot of moving parts when it comes to SEO et al. It's not all as sexy as you might think. We don't have a bunch of youngsters just sitting around on their iPhones playing on Facebook and Instagram (although we do spend a great deal of time on those two platforms!) Rather, our team consists of content writers, designers, coders, social media specialists, WordPress experts, and of course: SEO practitioners.
Here are just a few of the things we offer, and no – you won't see any SEO monthly packages here.
Is your SEO Agency Keeping Up?
No matter what your online marketing needs are, I have the team and the skills necessary to take you to the next level (and beyond).
When it comes to hiring the right SEO agency in Las Vegas, one thing to consider is experience. I have been performing online marketing services for over 15 years and one thing that remains consistent year after year is: change. That's why I am committed to ongoing training and development for all aspects of the internet landscape including WordPress, Social Media, Google, Voice Search and much more. Regardless of where the internet takes us in the future, I will be right there with you to ensure you're not left behind.
BRANDS THAT I PREFER TO WORK WITH
Although I have worked with many different platforms and companies over the years, these are my preferred vendors. Many of which I have an affiliate relationship with, which means that sometimes I might receive a small compensation in exchange for signing you up with them.