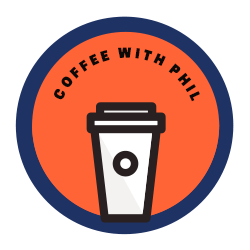 Call us now to get a WordPress website built and implement your SEO marketing strategy right away!
Las Vegas SEO & WordPress Website Design
Coffee With Phil is a simple concept.

I have been doing the SEO and Web Design thing since the early 2000's and have seen it cross every road possible. We are no longer in the infancy stage of the internet and we have all learned quite a bit. Now we know what works and have the tools to ensure success for every client.
We can build your WordPress site in as little as 24 hours! If you're ready, so are we! Or if you need a little more customization, no problem!
We take the entire workload off your plate. From keyword research, to topic creation, to the actual writing production and installation on your WordPress website.
We have several levels of monthly website care packages available. Keeping your WordPress core files and Plugins updated and your website completely secure, as well as full backups to prevent any loss.
For most business owners, this is where they need the most help. We can do it all for you. Facebook, Instagram, Twitter, Google+, LinkedIn, and more!
We offer a full compendium of services when it comes to Search Engine Optimization, otherwise known as SEO. Call today to discuss a strategy catered to your business needs.
This is one of the most key critical items that most businesses miss. Ensuring that your company and website have staked it's claim across the numerous local citation sites online. Furthermore to see that they're all in sync.
HAVE A CUSTOM WORDPRESS PROJECT?
AFFORDABLE WEB DESIGN AND INTERNET MARKETING
If you are in need of a WordPress site build, rebuild or cleanup – we can help. Let us show you how to get your website completely up to date with the latest standards for page speed, mobile readiness, and user experience.
At Coffee With Phil in Las Vegas, we design and build high quality, mobile responsive WordPress websites. Cost to build a website can range from $500 to $3000, depending on the needs and customizations desired. A typical website build will cost between $1000 and $1500. To get started with a website build project or just to inquire about our web design services, simply fill out the contact form above.
Are you ready to take your internet marketing (SEO) to the next level? We have over 15 years experience with performing and managing search engine optimization and social media marketing for hundreds of clients. Our team is dedicated to getting to know each client and their business to ensure that we are implementing the right strategy for their needs and goals.
Getting started is simple. Choose from one of our two signature services below. Typical SEO costs run about $1500-2500 monthly for a full package that includes blogging, link building, social media management and website care packages. For small business, we can build an internet marketing campaign to suit your needs and budget as well. Or if you just need one or two items handled, just let us know. We will be more than happy to visit with you about your online marketing needs and provide you with a plan.
BRANDS THAT I PREFER TO WORK WITH
Although I have worked with many different platforms and companies over the years, these are my preferred vendors. Many of which I have an affiliate relationship with, which means that sometimes I might receive a small compensation in exchange for signing you up with them.