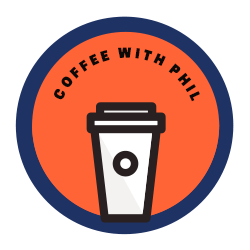 Coffee With Phil Partners
Just a short list of respectable companies with names you will recognize that I prefer to work with and use their services.
PARTNER SERVICES THAT I PREFER TO USE
I've been doing this for over 15 years now and after a lot of trial and error - I like to share my experience with you. On a few of the links (logos) below, you will be directed to the service website where I occasionally receive an affiliate commission. Usually these are something very nominal. If you know me, then you know that the pricing of my services is very low compared to my competitors. So by using the links below, it's like saying a nice little "thank you" and it probably buys me one or two of those expensive lattes that I like.
Coffee With Phil is proud to be a GoDaddy Pro and be able to provide direct management and support for all your project needs. No longer do you need to hand over your login credentials to your account, you can simply delegate access to my email address and I will be able to handle everything for you.

Seriously - I realize that you may be used to some sort of clunky email service that you've been using since your were scrolling that trackball on your Blackberry. But in reality these days you need something with more ease of use, scalable and simple to incorporate with your mobile device. G Suite (aka Gmail) is my go to recommendation. P.S. I really can't stand Microsoft 365 or whatever they're calling it this week. Here are two Coupon Codes that will get you 20% off your first year. And yes, I'll get a little bit of a commission from them so I can buy another one of those fancy lattes. Just copy/paste one of these into your account when checking out. G9PT4L4KH9PDR3L G9Q3ELPXHLQMKM9
I suppose that everyone has their own favorite when it comes to phone services. But not everyone likes the price and confusing setups of many of those big named companies. I discovered these guys in mid 2018 and haven't looked back. The system is super simple and easy to use. Plus they plug right in to Google Analytics and you can track "events" there with your phone calls.
I don't make anything off of these guys, but it's a service worth mentioning. If you are wondering how to keep up with all your pages on Facebook, Instagram, Twitter, LinkedIn and so on - this should be your go to. They've been around a while and it's a name you know.
Maybe you are more of a DIY'er when it comes to building your own website. Listen, before you go off an get sold a bag of goods by an all in one solution that you see on television - trust me, I can show you and give you 1000 reasons why you shouldn't go with them. For the sake of having a future on the web with your business, just do yourself a favor and follow these steps:
1. Register your domain name with GoDaddy (link above)
2. Buy a hosting account with GoDaddy. (Don't forget your SSL!)
3. Buy Elementor (with this link)
4. Spend a weekend or so learning how to build your site.
5. Thank me later
Realistically, you know you need phone numbers and tracking capability these days. While you certainly have several options, when the time comes and you need to do a lot more with phone tracking - Call Tracking Metrics has you covered. As mentioned earlier, I have a preference for the smaller business that might be on the more affordable side in the beginning - but once you've moved in to a larger category, this is certainly the way to go for your next step.
If you are in need of a really cool live chat software for your website and social media, Zoho Sales IQ is probably your best bet. Total no brainer.